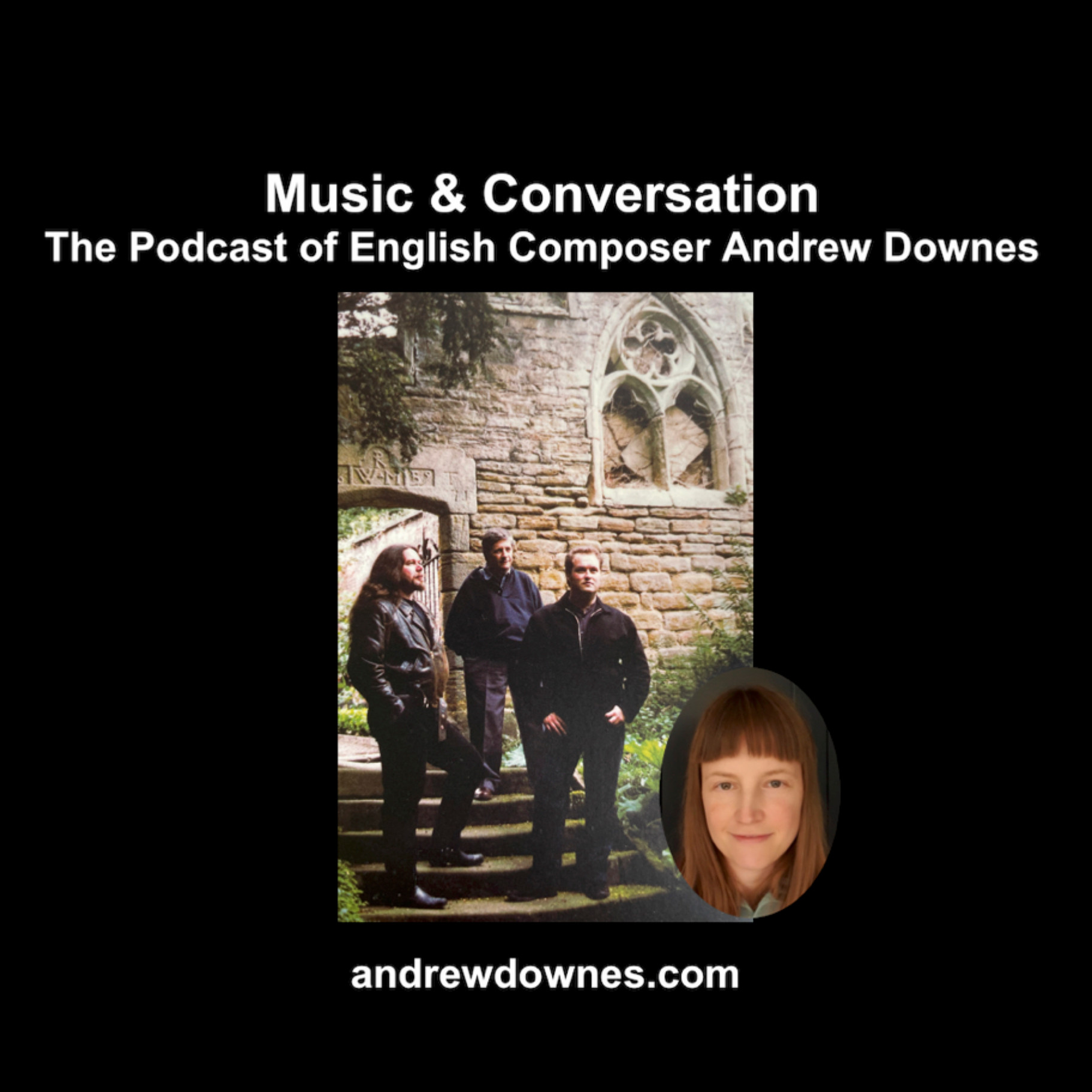 Paula interviews world-renowned jazz guitarist and bassist, Fred Thelonius Baker.  Fred was a student at Birmingham School of Music (now Royal Birmingham Conservatoire) from 1979, and studied composition with Andrew Downes. Andrew went on to invite Fred to teach at Birmingham Conservatoire in 1989, which led to Fred being a major part of Andrew's new School of Composition and Creative Studies from the early 90s. Fred has been a permanent teacher/lecturer in accoustic and bass guitar there ever since.
In the mid 90s, Andrew composed his Concerto for Guitar, Electric Bass Guitar and Strings for Fred playing Electric Bass with Simon Dinnigan playing Acoustic Guitar. They recorded it for CD in 1999 with string players from the City of Birmingham Symphony Orchestra. Fred and Simon also arranged Downes' Piano Sonatina, Movement 2 for Electric Bass and Acoustic Guitar and also recorded this for the CD. All of these works are played throughout the episode. More information on the works and the CD can be found here: https://www.andrewdownes.com/Soloists-with-Orchestra.html#GUITARSTRINGS
Fred Thelonious Baker is a Jazz guitarist and bassist from the English village of Tibshelf, Derbyshire. Born in 1960, Fred was given a ukulele when he was four by his father. Indeed, Fred's parents were a major influence in the beginning of his musical journey. A year later, he was given his first guitar and went on to learn the Classical guitar. During his mid-teens, Fred also began an interest in the bass guitar, an instrument with which he has
since become synonymous.
After studying at Chesterfield College, Fred went on to study at Birmingham School of Music (now Conservatoire) where he gained a GBSM and ABSM in teaching and performance. Around this time, at the invitation of Sir John Dankworth and Cleo Laine, Fred began teaching at Wavendon All Music Summer School. Since then, Fred has taught and given masterclasses at many universities, music colleges and music Summer schools
including Guildhall School of Music & Drama, Berkeley College of Music, USA, St Petersburg Conservatory, Russia, London Brunel, Huddersfield, Sheffield, and Derby Universities. Since 1989, he has been a permanent teacher/lecturer in acoustic and bass
guitar at Birmingham Conservatoire.
Fred has performed all over the world as a session musician and soloist with a variety of musicians and ensembles including Courtney Pine, Nigel Kennedy, Billy Cobham, the CBSO, Fairport Convention, Robert Wyatt, Harry Beckett, Horace Parlan, Soft Machine, John Etheridge, Pip Pyle, Ric Sanders, Karen Street, Joe Sachse, Tony Levin, Phil Bates, Clive Bunker, Elton Dean, Simon Dinnigan, Geoff Eales, Liam Genocky and Phil Miller.
As both a jazz guitarist and bassist, Fred has appeared extensively
on many recordings. "Spinal Tap" from his solo accoustic guitar CD, Life Suite, will be played on this episode.
Fred is currently working on the legacy of the late Phil Miller: https://philmillerthelegacy.com